All-in-one for future-proof automation
- 30 % Faster engineering
+ 10 % Higher productivity
Discover the future of automation –
all in one!
In an era where automation is shaping software development, Bosch Rexroth's powerful ctrlX CORE control platform is taking center stage. This scalable, state-of-the-art industrial controller lays the foundation for future-proof automation. ctrlX CORE is equipped with the real-time Linux-based operating system ctrlX OS, which offers maximum openness and gives users access to the entire ctrlX AUTOMATION ecosystem.
Therefore Peick FörderSysteme
Economical solutions
with first-class partners
We are proud to work with selected partners in the field of control technology. to work together. These partnerships enable us to provide you with best-in-class solutions based on the latest technologies and proven methodologies. At Peick Conveyor Systems, we are your partner for companies striving for excellence in materials and goods logistics. Contact us to find out how we can optimize your operations.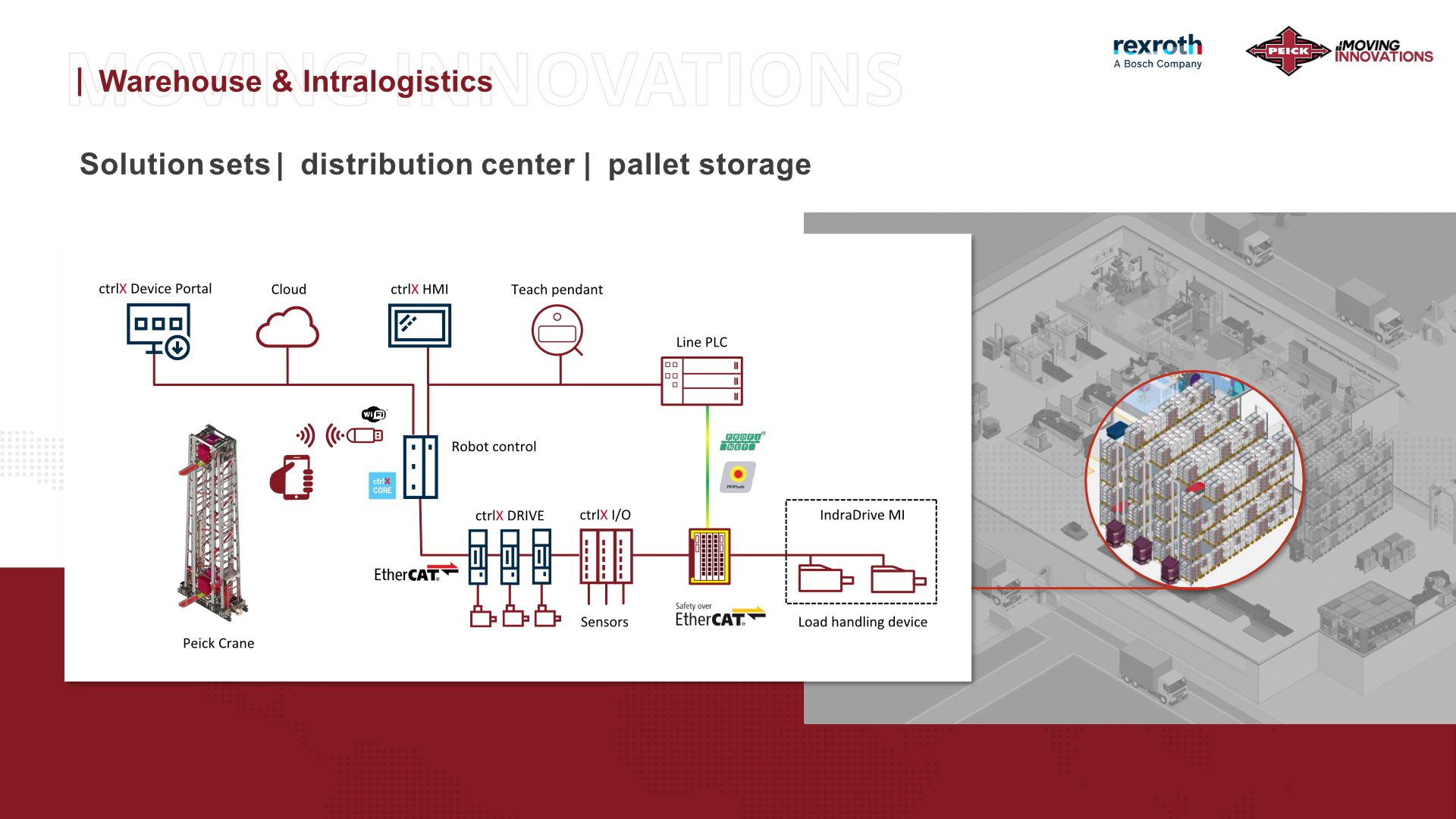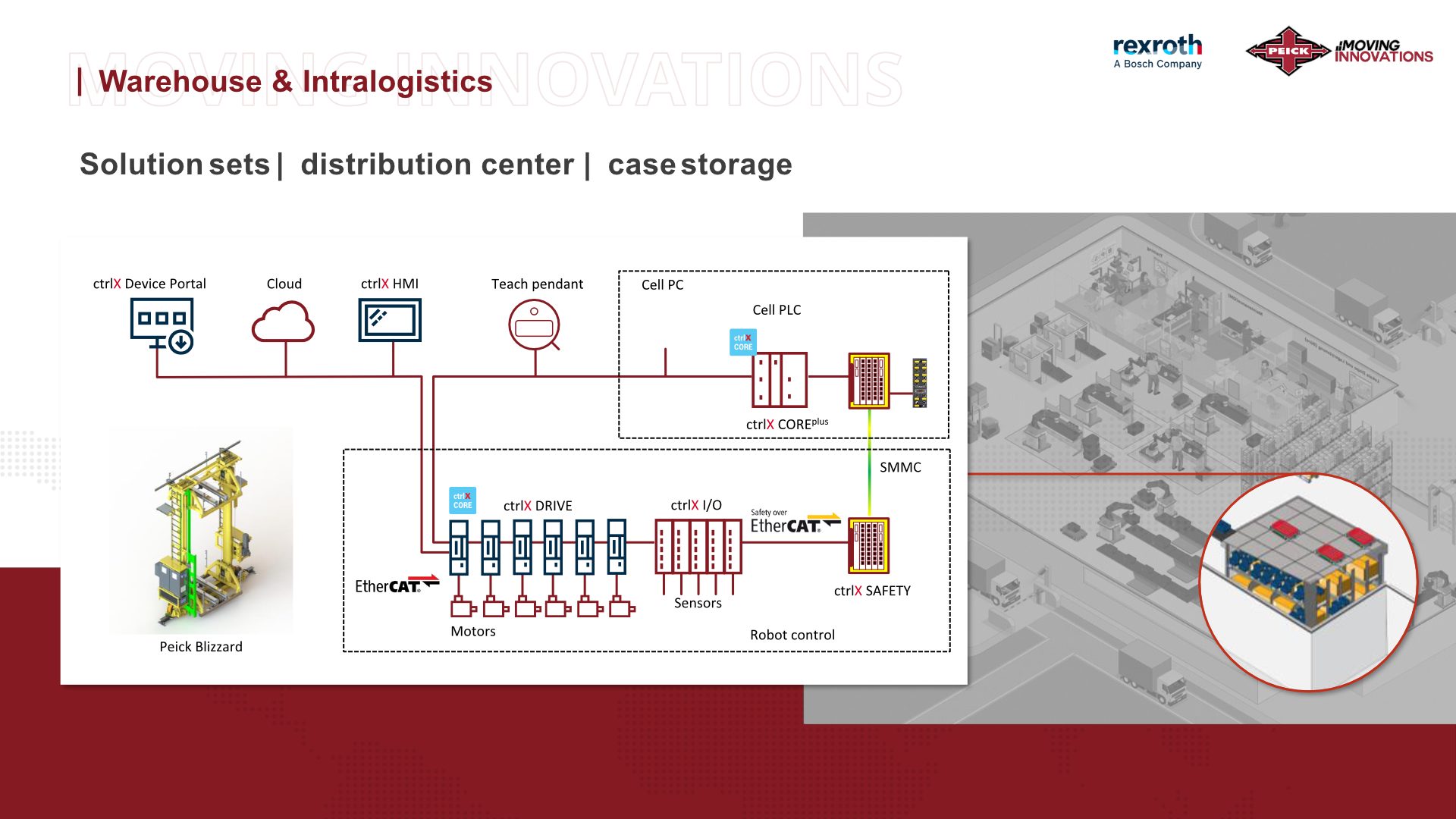 Everything from a single source: ctrlX CORE for your automation
In today's world, automation is all about software development. The basis for this is the powerful and communication-capable control platform ctrlX CORE. Bosch Rexroth has implemented state-of-the-art automation technology with this scalable industrial control system. On ctrlXCORE runs the real-time, Linux-basedctrlXOS operating system, which stands for maximum openness and gives users access to the entire ecosystem provided byctrlX AUTOMATION was brought to life. The open and hardware-independent architecture of the controller ctrlXCORE overcomes the boundaries between the embedded system and drive-based technology platforms.
Unlimited possibilities: The innovative power of ctrlX CORE
The "one controller for everything" concept means less effort in engineering and components, but at the same time productivity increases. The modular software kit opens up completely new possibilities in the creation, provision and use of functions. The latest app technology forms the basis for this. ctrlXCORE represents the core of thectrlXAUTOMATION automation building block and is the nucleus for the digital industrial control of the future.
Powerful and flexible: ctrlX COREplus and more
The extremely compact and powerful control platform ctrlX CORE handles about 70% of all common automation tasks. The modular variant ctrlX COREplus also offers extended fieldbus interfaces and enables I/O modules to be added. These functional expansions serve, among other things, horizontal and vertical machine integration and open up new possibilities for users in terms of connectivity and networking. The portfolio is further enhanced by an extremely powerful variant. Thanks to state-of-the-art CPU technology, this offers approx. 7 times the performance of the previous ctrlX CORE. In addition, an industrial control with reduced interfaces and options is available as an entry-level solution. Bosch Rexroth thus offers the optimum control platform for every application – whether as a PLC control system, motion control system, or in another form as a control system.
You have questions about our products and services and would like to learn more about Peick Fördersysteme GmbH? Then do not hesitate to contact me!
I am looking forward to receiving your message.
Our promise of quality
Values, such as "Made in Germany", quality, and personal support to our customers are always our top priority. As a Swabian machine builder, we combine quality, tradition and innovative technologies.
Peick is certified due to DIN 9001:2015
Our sites
We are there for you.
You have questions about our products and services and would like to learn more about Peick Fördersysteme GmbH? Then do not hesitate to contact us!
We will be glad to hear from you.
Headquarter
Peick FörderSysteme GmbH
Zeppelinstraße 26
71672 Marbach am Neckar
Tel.: 0049 (0)7144 910460
Mail: info@peick-fs.de
Construction | Project Management
Peick FörderSysteme GmbH
Am Halberg 13
66121 Saarbrücken
Tel.: 0049 (0)681 3875020
Manufacturing | Construction | Project Management
PEICK Automation S.R.L.
Strada Dumitru Georgescu-Kiriac 11,
Cluj-Napoca 400394, Romania
Tel.: 0040 791 666 660