The future of yacht storage
Yachts up to 20 metres length and 50 tons in weight
The parking pallet can be adjusted for the yacht type via carrier systems
Personalised access to the yacht
Innovative parking for yachts
Reinvents
yacht parking
Berths are an economic commodity. Ports and yacht clubs know that efficient port layouts are essential for their economic efficiency. In addition to port design, ergonomics play an important role. Our unique Parking garage concept for yachts offers the freedom to find the best parking system to meet your individual needs and desires. Regardless of existing regional structures and scarce building land, the modular and structurally flexible parking garage can be erected within a very short time.
The Peick FörderSysteme GmbH parking system allows automatic parking in the narrowest of spaces.
Therefore Peick FörderSysteme
Economical solutions for
conveyor systems and yacht parking garage
Peick FörderSysteme GmbH from Marbach am Neckar is an owner-managed company that has specialized in fully automated storage and logistics systems for over 25 years.
Spread over two locations in Germany and one in Romania, we advise, develop and produce innovative material flow systems.
In doing so, we rely on flexibility and creativity with our think tank, both in dealing with our worldwide customers and in our own operations, always true to the motto "Customer – Oriented".
Our high-performance hardware in combination with intelligent software components, creates a significant optimization of the work performance in view of the internal customer KPIs.
Values such as "Made with Quality", as well as professional and personal service have top priority.
From "first contact" to "after-sales", our customers receive a customized full-service package.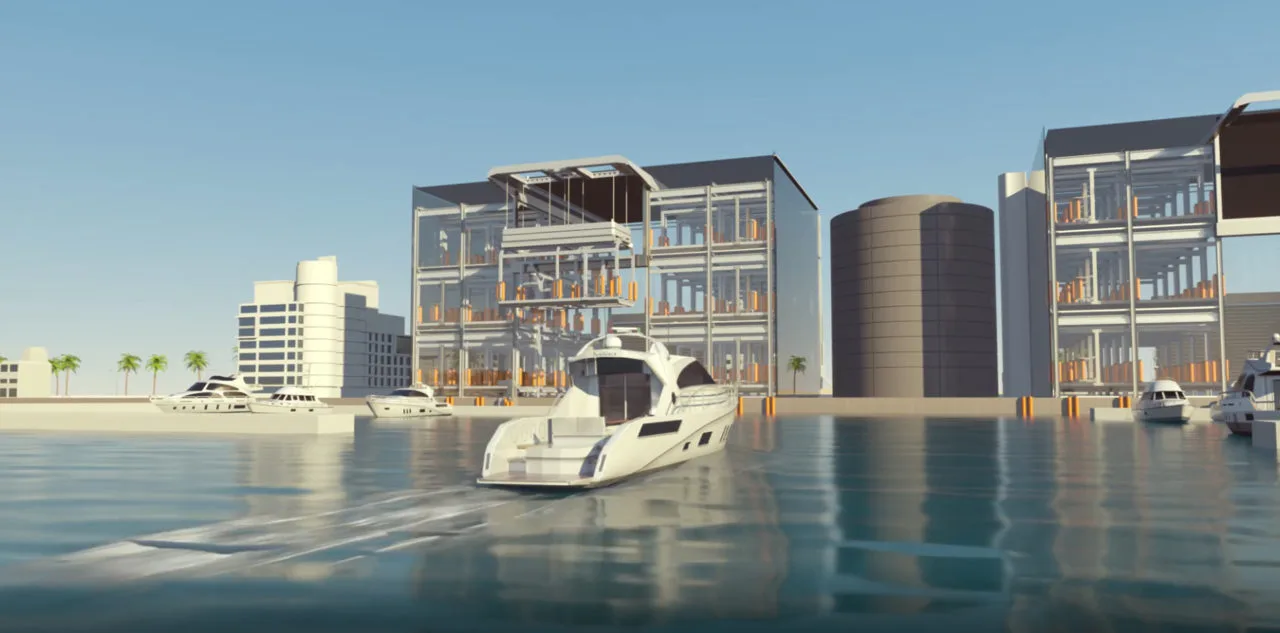 You have questions about our products and services and would like to learn more about Peick Fördersysteme GmbH? Then do not hesitate to contact us!
We will be glad to hear from you.
Full support of your yacht parking
Complex projects require creativity
The Peick Supervisor / Assembly manager supports the assembly and launch of your plant, and then trains your maintenance staff. A full-service from one source.
We guarantee a short delivery time and a flexible approach.
The future of yacht storage
#Innovation
The parking pallet can be adjusted for the yacht type via carrier systems
No damage from surrounding yachts, vandalism, burglary or theft
Less wear and tear, as the yacht is not permanently in the water
Higher resale value of the yacht
Fast availability at the time of requirement
Use as year-round berth or winter storage
Individual electrical battery charger on each palette
Personalised access to the yacht
What are the advantages of the yacht parking solution from Peick FörderSysteme?
Unsere innovative Lösung zum Yacht parking is inspired by our systems from the areas of conveyor technology and automatic parking garages for cars. Besides thee solution to the protected and space-saving accommodation of the yachts, it offers further advantages to both the boat owners and the port operator. Our system is designed in such a way that operation is simple and always safe, even by untrained users. It consists No danger of environmental damage due to leaking operating fluids or similar. In addition, our modular parking garages can be individually adapted to the customer's requirements.
Economic use of the existing space
Our system for yacht parking makes optimal use of the available space. Not only because the yachts are parked in several levels above each other can be stored, further optimizations are also possible. Thus, the individual boxes can be used after removal of the yacht to store the Boat driver's car safely and protected from the weather. Our modular yacht parking garages can be easily and completely flexibly converted around additional usable space can be added.Yacht parking, harbor gastronomy, shopping, living and much more can be integrated in one building and the available space can be used to the maximum.
Parking yachts as easy as child's play
Our parking system for yachts requires no special skills for operation. The yacht is requested via a personalized access system at the push of a button and the boat is lowered into the water fully automatically and ready to go. Sensors monitor that no one is in the boat. At the end of the trip, the skipper only has to drive over the parking pallet in the water and leave his boat to start the parking process at the push of a button. The parking pallet, together with the yacht, can also be turned fully automatically in the direction of the entrance and exit of the parking garage. A Maneuvering in the parking garage by the boat operator is therefore superfluous.
Are yacht parking garages safe to operate?
The idea of automatically lifting a yacht weighing several tons out of the water and transporting it several meters into the air may sound unusual, but as new and innovative as the idea is, the technology behind it is tried and tested. The conveying of heavy or sensitive loads is the core competence of Peick FörderSysteme GmbH. The yacht parking garages contain our entire Experience from almost 20 years of activity in the areas of conveyor technology and fully automatic parking systems for cars. This allows us to make yacht parking as safe and reliable as parking a car.
Environmentally friendly yacht parking in a parking garage
Parking a yacht in a classic marina not only exposes the boat to the elements, but can also lead to the water being contaminated with fuel and operating materials. Such Environmental damage is also avoided, such as the costly cleaning measures often associated with them or possible fines, which can be sensitively high depending on the berth. Our yacht parking garages also offer the possibility, Photovoltaic systemsas well as Green roofs and facades can be integrated into the building, making them a particularly energy-efficient and environmentally friendly solution for yacht parking.
Our sites
We are there for you.
You have questions about our products and services and would like to learn more about Peick Fördersysteme GmbH? Then do not hesitate to contact us!
We will be glad to hear from you.
Headquarter
Peick FörderSysteme GmbH
Zeppelinstraße 26
71672 Marbach am Neckar
Tel.: 0049 (0)7144 910460
Mail: info@peick-fs.de
Construction | Project Management
Peick FörderSysteme GmbH
Am Halberg 13
66121 Saarbrücken
Tel.: 0049 (0)681 3875020
Manufacturing | Construction | Project Management
PEICK Automation S.R.L.
Strada Dumitru Georgescu-Kiriac 11,
Cluj-Napoca 400394, Romania
Tel.: 0040 791 666 660